Processing Equipment and Plant
Since its founding in 1978 our company has now become a large manufacturer of processing equipment and plant. The equipment ranges from compact turnkey lines to fully integrated factory production facilities, all featuring modular designed equipment. Meco has many standard models and they are designed to meet customers' requirements.
Processing Plant
With our experience in engineering and supplying turnkey projects, we offer complete plants, extentions, modernizations, maintenance and repairs, with the following advantages :
Equipment well matched and adapted to the needs
Guarantee that the plant will operate and perform as expected
Functional layout
Competitiveness and plant adapted to budget
Training of personnel
Relieable deliveries
After sales service
Processing Equipment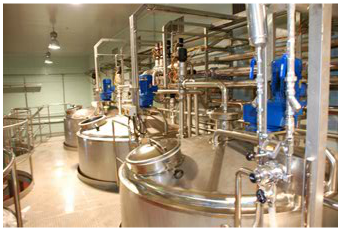 We have already a long tradition for engineering and manufacturing all kinds of plant equipment made of stainless steel or mild steel, such as pressure vessel, tank, filter, heat-exchanger, cooler, autoclave, conveyor, valve, fitting, etc.
The most modern manufacturing techniques and the finest materials are used in the production of our equipment.
Industries Supported
Industrial processing plants must be adapted to the particular needs of every user. We would be pleased to study your specifications and propose our design, we are able to manufacture and erect equipment and plant as well, according to your contractor or consultant design. We are ready to support the following industries :
Food and beverage industrial plant
Chocolate
Herbs
Fruit Canning
Syrup
Mineral Water, etc
Agro industrial plant
Latex
Palm Oil
Edible Oil
Sugar
Animal Food, etc.